Well, it's been around for a while, but I thought, I post a wee few pictures up and start a build thread, because I'm far from where I want to be
Some time mid 2009, I got an offer to buy this E39 M5 and trade my 525tds in on it. And while there were some issues with the car and others appeared before the car was handed over, the price and the spec were something I couldn't resist.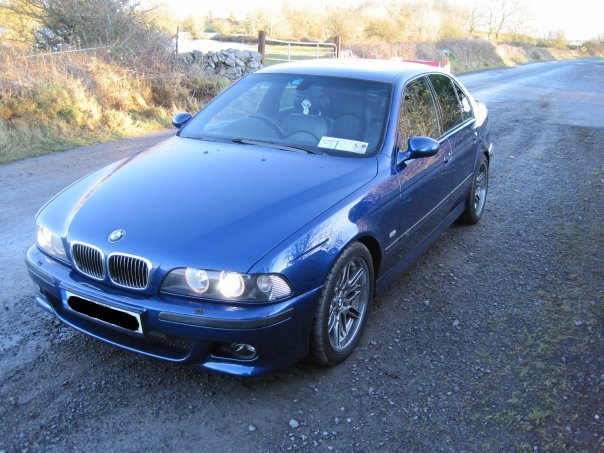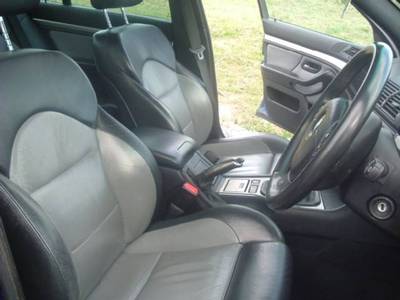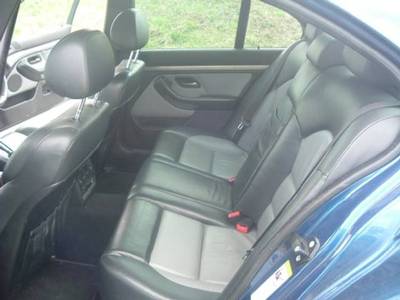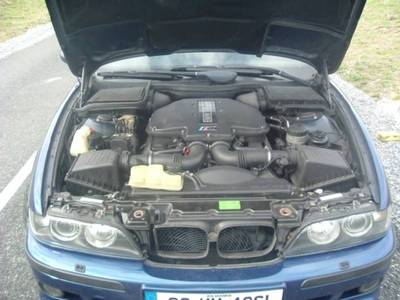 The car is a pre-facelift car, but there where a few upgrades, some that I knew about and some that I only found out later on.
The obvious things are OEM angel eyes, 16:9 navigation, upgraded grey dials and the ac schnitzer exhaust system. The stuff that I only found out about later on are things like stiffer non-oem springs.
I got the car handed over with a bust driveshaft and a bust rear diff, things which weren't bust when the deal was made. So the repair of that was paid of the purchase price. Handy enough for me, as who would have known, when they would have fallen apart later on. Also, the car having 126k miles on the clock, a certain amount wear and tear was to be expected.
I'm at 152k miles now (18 months later, 26k miles extra on the clock) and pretty confident, that most of the gremlins are gone. Oil consumption is less than most others. Around 1 liter per 900-1000 miles.
A few things still annoy me though. While the screen was upgraded from 4:3 to 16:9, BMW didn't tell the owner at the time, that he also needed to upgrade the video module. Or they overlooked that fact. So randomly (annoyingly most often), my screen will initialize in 4:3. With newer video modules, this can be set in the settings, but with the first two partnumbers, it's not possible.
I've also replaced both front shocks, the clutch (known issue to die every 50-70k miles), one of the cps sensors, the oil temperature sensor, the crankshaft sensor and because of a leak in the replacement diff, that wasn't spotted in time, had to replace the diff again. Does it break my heart ? No.
Mods, that have been completed already
* LED tinted rear lights
* Yellow stuff brake pads
* TEC cupholder, because BMW's canholders definatly don't keep the coffee in place on M5 accelleration
* upgrade of radio from BM24 to BM54
* iBus module for car-computer integration
* cabling for aux-in, video-in and video-out
* removed the TrafficMaster tracker and replaced with a generic one.
* installed a coin holder in the driver door
* installed an electric sunblind in the rear window
* upgrade of Nav from Mk2 to Mk4, replaced Mk4 drive internals with new ones.
* replaced of the video module to fix the initialization issue
* AUX AV-in cabling for lap-timer/phone display use.
* led bulbs for the angel eyes
* BMW Performance Brakes front (Brembo 6-pot)
* Goodridge braided brakelines
* ATE super blue racing brake fluid
Mods, that I've still in the plans
* Yatour digital CD-changer to replace the dying BMW CD-changer
* retrofit OEM front+rear PDC
* retrofit of OEM bluetooth kit
* rear diff change from 3.15 to 3.63
* CNS racing clutch
* Van Manen x-pipe, race-cats and manifold
* ESS Supercharger
* Interior change to black heritage interiour (still on the search)
I also need to get my alloys refurbished, fix my front bumper (which encountered a collision with a fox a warm summernight in June, when I was in Denmark), and get the stonechips fixed in my bonnet and right front wing. Some of the other body parts have already been repainted.
The mods todo list is something, I'm going to tackle one by one. Especially, because I have to make sure, that every other issue is sorted before the charger goes in and also, it would be a good plan to have clutch and brake kit bedded in before that, too.
I had the beast on the dyno this summer, and with 95 octane, 145k miles on the clock and 11 years on it's back it was putting out 366 bhp, so looks pretty healthy to me.
Anyhow, updates will follow.
/M