Discussion Starter
•
#1
•
Right... As a good few people are considering or doing M52 swaps in E30s, I thought I better do a separate thread on the engine swap on a friends 325i Motorsport cab.
I've decided to put it all into 10 steps and consecutive posts so easy to follow rather than bits spread over a few pages.
I'll update each post as soon as I get time for each and more so.. photobucket uploads all the pictures and I resize them all
STAGE 1
Part list preparation and sourcing:
Engine fitment:
E36 M52b28 engine ('95 E36 328i donor complete with nikasil liners and no, I'm not worried about them
)
Complete with exhaust manifolds, loom, ECU and EWS, keys and as much other parts as possible... Engine dropped out of a car attached to subframe with rack all still connected and as much of exhaust system as possible would be ideal if buying one.
If buying just the engine, breakers on here like Ben O'Brien and Dav-G would be able to supply more or less everything you need.
E34 525 24v sump, oil pickup pipe & dipstick tube
- Got this these from Ben at Em Techic
E34 M50 sump gasket set
M50/52 exhaust manifold gaskets
E34 M50 inlet gaskets (only if using M50 manifold)
Found it easiest and as cheap to buy full sump and head set from Barrysmotorsport or other motorfactors or engine shops rather than all individually from main dealer
Clio bosch servo
- any plastic winged Clio in a scrappie as for the sheer shits and giggles I inquired how much a new one would be from Renault.... 300 fecking euro plus VAT. Bit of paint on a rusty one with a good vacuum will do just fine me thinks
E28 M5 rubber engine mounts
- Barrysmotorsport or main dealer
E21 323i rubber gearbox mounts (optional)- BMW part: 23711109173
New E30 325i center prop bearing (optional if old one seems ok)
- BMW part: 26121226723 for facelift, 26121225152 for pre-facelift - Barrysmotorsport or main dealer
E30 lightened 5.9kg 325i flywheel
E30 325 Sachs clutch kit - Barrysmotorsport
E30 325i Starter
OR
Use existing M52 dual-mass clutch and flywheel and live with it being slower and not reving like a bike engine
Gearbox
E30 325i Sport gearbox (not essential but nice to have over normal 260)
Modified E30 gearbox mount and 325i linkages
E36 328i shift lever - donor vehicle
or
Z3 1.9 shif lever - BMW part: 25117527252
shift lever bearing - BMW part: 25111220600
E30 325i Spigot bearing (Only if using an E30 gearbox)
- BMW Part: 11211709681
E30 325i prop rubber coupling (optional if old E30 one is ok - Barrysmotorsport
3.64-3.91 LSD
Going using a 4.1 and M42 box on another M52 soon so will let people know how that goes
If using E36 328 gearbox
Modified E30/E36 prop shaft (shorten and swap on gearbox or weld on different flange to prop
OR
E36 328i prop-shaft with E30 center bearing reversed
OR
E30 M3 prop-shaft
E36 gear linkages
Same flywheel options as E30 gearbox
2.93-3.64 LSD
If using E30 M42 gearbox
E30 320 prop-shaft
E30 320 gear linkages and replace all bushings on these if needed
Same flywheel options as E30 325 or E36 328 box
3.15-4.1 LSD
If using E36 M3 Evo or E46 M3 6 speed gearbox
Custom gearbox mount,
Modified gear linkages,
Modified E36/E30 prop shaft or modified E36 328 or E30 M3 prop-shaft.
Exedy or Fidanza clutch and flywheel kit or Lightweight M3 flywheel and E34 M5 clutch or custom clutch and flywheel if using E46 box if not using standard clutch and flywheel for either box.
Same flywheel options as other gearboxes mentioned will work with E36 Evo box but not with E46 one.
Steering upgrade
E36 steering rack - Donor vehicle
E36 rack conversion kit - me
Solid straight steering shaft spline - Danthe
E34 steering U-Js x2 - scrap E34s
New E30 complete track-rod ends (E36 is slightly better in my opinion but Daithi already had these in the boot of the car ready to fit)
Cooling
New E36 328 air con rad - Barrysmotorsport
Second E30 drivers side rad mount - BMW part: 17111709333
E30 brown temp sensor (to give the E30 clocks a reading) - BMW part:
E36 318ti air-con fan temp switch - BMW Part: 61318361787
88 degree thermostat - Barrysmotorsport
KMP metal impellar waterpump - Barrysmotorsport
Wiring
E30 4 clyinder wiring loom cover parts -
http://www.realoem.com/bmw/showparts.do?model=AF93&mospid=47305&btnr=12_0370&hg=12&fg=31&hl=1
Various pins for C101, shrink wrap, solder, wiring and general boring stuff like that
Will think of more bits and add them to this post as I upload pictures and remember what we used as alittle late now.
Lots of shiny bits and nice little boxes.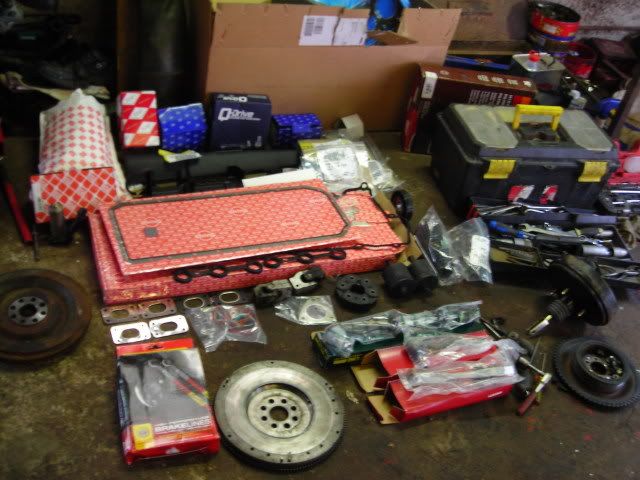 Clio found in scrappie so servo removed from that
The French actually had their thinking caps on for this one as you can remove the whole pedal box from inside the car and get the servo out.... Of course we realized this after we had given up on trying to get it out through the engine bay
E34 U-J removed from scrap 525tds (having a turbo manifold made things nice and easy for access here)
Of course you need two of these joints so another had to be sourced so I just used one I had at home until I find a replacement
​