Discussion Starter
·
#1
·
I found this earlier, I thought some might be interested:
2012 New Car Sales by Band
Doesn't take a genius to see that the motor tax take is shagged this year. Bands need to be changed aty the bottom end

2012 New/Used 2012 Registrations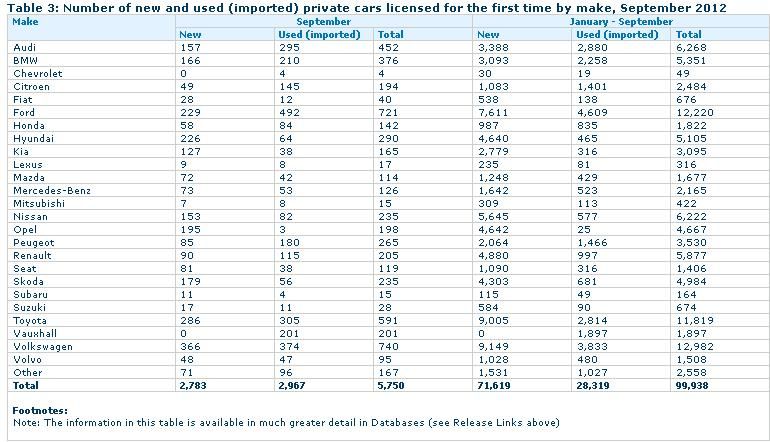 There's a significant number of imports versus new registrations. Look at the number of Ford & VW being imported used, I expected Audi & BMW to be up there alright though.
Year on Year Comparison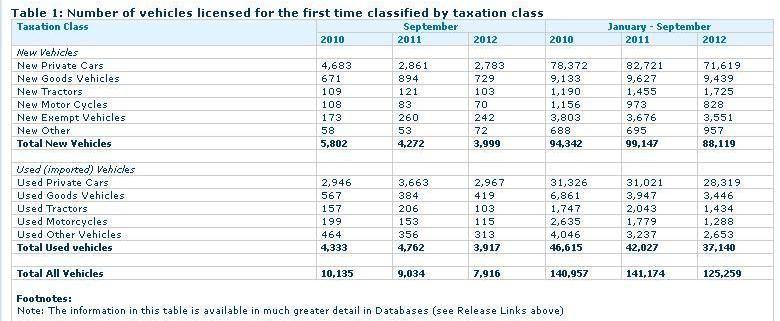 Searchable Database
Here is a searchable database that you can serch by Make/Model to see how many have been registered in a particular year:
http://www.cso.ie/px/pxeirestat/Statire/SelectVarVal/Define.asp?maintable=TEA05&PLanguage=0
Link to source of info/tables
http://www.cso.ie/releasespublications/documents/transport/VEHLICM2012M09/VL2012M09_release.html