·
Inspect-Correct-Perfect
Discussion Starter
•
#1
•
Hi Guys,
I just received some very excellent products for the shelves. I've been trying them out for a while and I really love them (I think you will too). They are very easy to use and extremely effective!
Have a look, see what you think and since this is the only forum I advertise on, I will give a discount for the first few orders.
The range is called R-Series Car Care from Reflectology in the UK. It isn't made in the UK though... there are one or two chemical companies over there who make most of the UK based brands (You would be surprised if you knew what I know!).
The first three products are a shampoo/cleanser, also a decontaminator and then a WOWA sealant.
R-1NE - "The Breakthrough"

500ml Shampoo - €14.00
A) Used as a shampoo, a 500ml bottle is enough for 50 Washes!! It smells great, its nice to work with and will remove road grime very easily.
B) Used as a Snow Foam, a 500ml bottle will give you about Litres of ready-to-use foaming pre-wash.
C) Used as a Degreaser & Bug Shifter, dilute at a ratio of 1:10.
D) Used as a Maintenance Wheel Cleaner, dilute between 1:10 to 1:20
E) Used as a heavy duty Engine Degreaser, use at 1:1 to shift stubborn grease marks.
F) Used as a Clay Lube at about 1:20
G) No foam gun? No problem. Dilute in a trigger spray bottle and Pre-spray the car and wheels at dilution of 1:20.
This is one very special shampoo... I LOVE it and use it for most washes now. There is a high content of active ingredient in it so it allows you to take advantage of its greatest attribute - its Versatility! And it is balanced at about pH 7 to 8, so it is pretty neutral.
R-6IX - DeconCleanse 500ml - €15.50

With other Iron removing cleansers, you need to wash the car first. R-6IX is a high quality gel formulation which doubles as a fallout remover for all paint and wheels. Again, you love the versatility. It can be used on its own, diluted as a pre-was or used through a foam lance. The reasoning behind this is that it contains active ingredients that will aid in the removal of general dirt, grease and grime - as well as doing what it was designed to do in removing iron contamination on the paintwork or wheels. Unlike a lot of Fall-Out removers on the market, DeconCleanse is NON-TOXIC and is the strongest possible formula without being so.
This a great All-In-One wheel-cleaner and fall-out remover and has a pleasant Tutti Frutti fragrance.
R-6IX - 500ml is €15.50
Lastly, for now... a little gem!
Defiance Spray Sealant 250ml - €15.50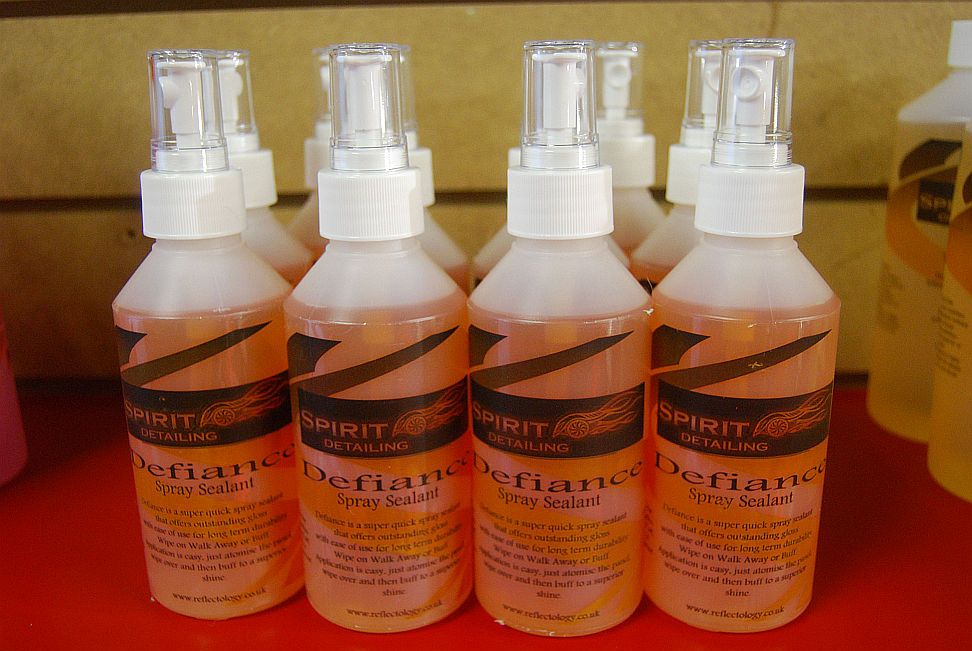 Possibly, the easiest to use spray sealant on the market with durability up to 12 weeks, possibly longer in the warmer months. With an application in about 15 mins, its a no-brainer as a really good WOWA product (Wipe-On, Walk-Away)
Use it on paint, glass and plastic with ease. Since it is a water based product, you won't get the streaking that other spray sealants leave. The bottle size is 250ml but as you only use about 15ml per car, this is going to last you long time.
Defiance Spray Sealant 250ml - €15.50
If you have any questions about them, just let me know. I will be adding more to the line-up in the next week or so, so watch this space.
Cheers
Brian